Understanding SEO Basics
Every successful business must layout a unique marketing strategy. Marketing is defined as how a business plans to promote and sell products and/or services. This plan should include market research and advertising. Now that the internet is such an integral part of most every US business, whether for sales or information alone, a marketing plan must include an online strategy. I hope to enlighten the average small business owner to the SEO basics.
Search engine optimization (SEO), the steps taken to get found in search results on the internet, is a necessary part of marketing from a website. For a small business with little or no web experience, dealing with SEO can add stress and additional cost to your marketing plans.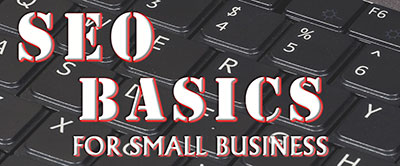 Entrepreneurs, take heart. You can handle it for yourself by learning SEO basics, or to safely outsource your SEO, without breaking the bank.
Google, the most popular search engine, is constantly updating their search practices, to remain fair and impartial. In 2016 Google redesigned their search results page, including removing right column ads, which produced less clicks. The new page layout also includes up to seven paid ads per page. These include Rich Cards, ads with photos and sometimes prices, that appear when searching for products on Google.com.
This new layout has helped to increase add success – the "Click Through Rate" (CTR) for Google paid ads and subsequently increased ad pricing a bit. It has also decreased the number of organic search results and pushed them farther down on the page. Although I have normally steered my clients away from search engine paid ads, these changes will alter my recommendations. I now recommend a mix of SEO, with an added Pay Per Click (PPC) ad budget, as the best road to web marketing.
Let me help you with a basic knowledge of Search Engine Optimization. Remain calm. I'll explain in layman's terms and there are a plethora of tutorials available online for SEO and SEO tools.
Keep in mind, search engines can penalize websites (by lowering rank), if you do not follow these simple guidelines. Cloned websites, with duplicate information, can be removed from search rankings completely. Follow the guidelines. Don't plagiarize material.
The Two Sides of SEO
Your website:
Optimize (make the most effective use of) your web pages, according to current best practices

Research current, best SEO practices for page optimization (Google it!)
If you outsource, be sure your web developer or content writer is optimizing your pages

Include page titles (which appear on browser tabs) for all pages
For WordPress sites, install an SEO Plugin and utilize the features available
(I recommend Yoast – it's free!)
Include images with "ALT" tags and use videos, when possible
Use links to other websites

Link to other businesses that complement, not compete, with your business.
Trade links with businesses; add their link to your site, if they link to yours
Ask distributors, and those you distribute for, to add your link to their sites
Exceptional content increases your chances of securing links from more established websites
Do not link to poor quality content or offensive material, even for friends
Be sure to link only to valid, live websites

Include meta descriptions (160 character snippet, HTML tag, that summarizes a page's content) for each page you want "indexed" (crawled by search engines)
Update your website regularly.
The Search Engines:
Social Media:
Social media offers free avenues of exposure for your business
Create business pages on Facebook, LinkedIn, Twitter, Pinterest, etc.
Facebook feeds can be added to your website
Link blogs directly to Social Media
My goal is for this information to give you a basis of knowledge to enable you to optimize for yourself and to protect you from overpriced services and scams.
SEO is an ongoing process. After these initial steps, you will need to devote some time to keeping up with updates, analytic data and social media; or hire an website manager. Be sure to have a detailed list of what a manager will be doing for you and how often. A manager with an hourly rate can be a much more cost effective option than a company with a large, monthly fee.
I have an SEO checklist available for download here. I will explain each step in detail in my next blog. Follow these steps to get on the road to Search Engine Optimization.
Chelsi Graphics, LLC offers web design and web management services on an hourly rate of $45 per hour. E-mail me for more information.